Horoscopes › 2019 › Pisces - 2019 Horoscope
Pisces - 2019 Horoscope

2019 prediction
Horoscope encourages originality
Pisces, if you'll look for new job and write a letter of motivation in 2019, or even compose an important love letter, consider writing it in hand, using a fountain pen, or with an old typewriter, or picture it as a promotional leaflet, or a police "most wanted" alert. The horoscope reveals that in 2019 Pisces will have a perfect opportunity to show others that they do not belong to a "ruminant herd" (figuratively speaking to people who lack imagination and originality).
2019 favours bold Pisces
Show others that you have the courage to do things differently. It is clear that trying to be original is not always accepted by everyone, but that is already part of this bold task. The horoscope for 2019 urges Pisces to be prepared for a crooked path that can't be avoided. A steadily ascending airplane must also land sooner or later and fill up the tank with fuel for the next flight (it cannot only fly higher and higher). Even the one who wants to become a figure skating champion occassionally has to fall painfully during the training to become a true master. The horoscope tells Pisces that the potential of 2019 is great, but only the courageous and persevering can get really big.
Wings for "flying" Pisces
Compared to the usual "swimming" nature of Pisces, which is suitable for a swift ride through all problems of life, in 2019, according to the horoscope, you will grow small wings. Do not worry, you will not become an eagle, a mighty predator who rules the sky like a Boeing 747, a robust icon of clouds. Pisces may well acquire the features of a small hummingbird, or even a smaller ladybird – that is, act inconspicuously and yet gain sufficient insight into things, plus ability to skilfully manoeuvre. In this way the horoscope foretells your ability to handle 2019 nicely.
Scissors, thick line ...
The year 2019 will also help as a sort of imaginary scissors that can cut you off from the past and change your appearance or lifestyle. Maybe you feel regrets. But you probably do not belong to those who, with a stocking over their head, took part in a bank robbery ten years ago. According to the horoscope, a normal person born in sign of Pisces will rather feel the need for some radical change at last. The horoscope suggests that in some cases the desire to "bury the past" can be literally unbearable. However, the 2019 horoscope sees a great opportunity by Pisces – the ability to identify the problems and at the same time to find the energy and the courage to deal with them.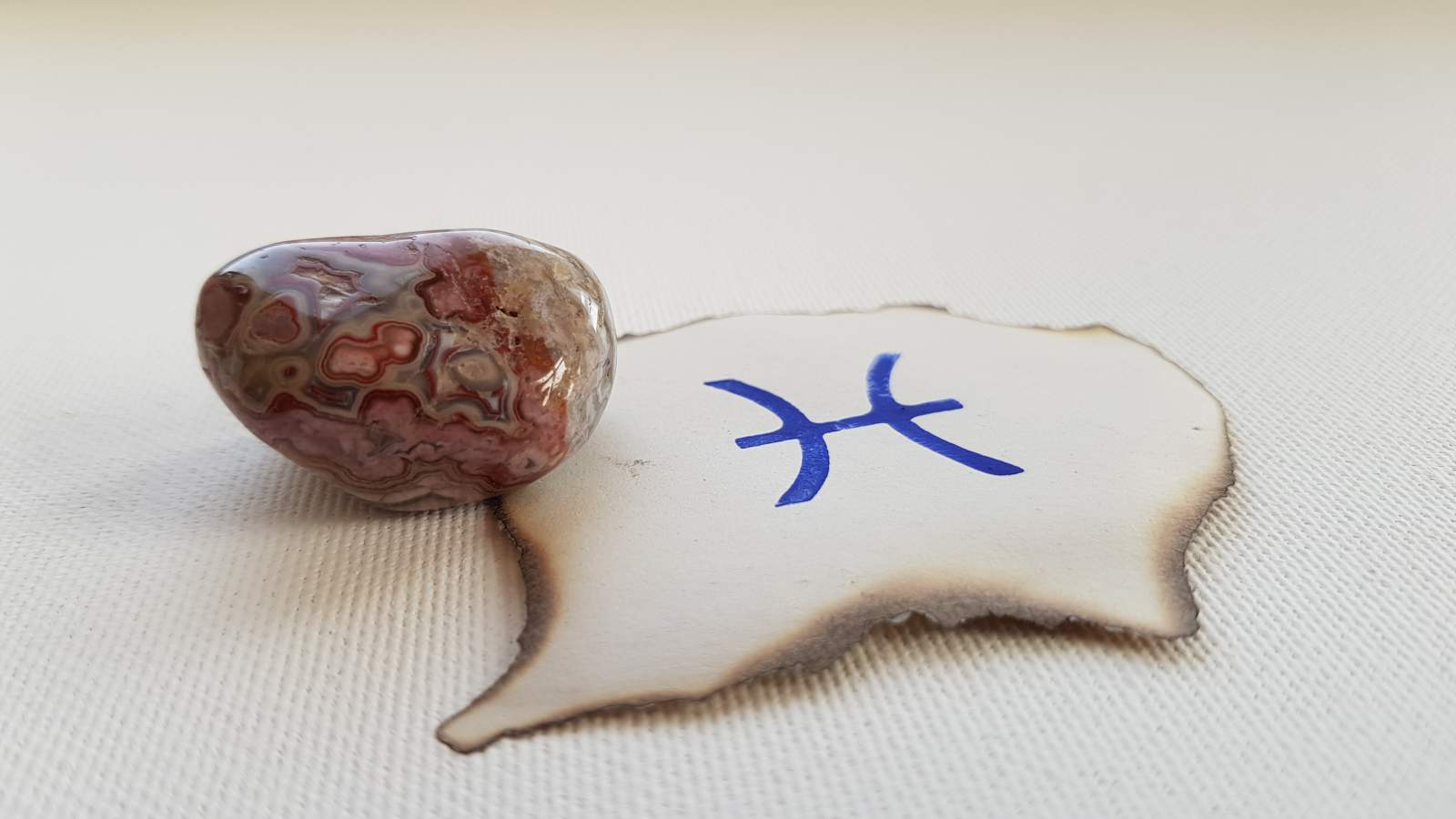 Gemstone Pisces - Crazy Lace Agate
Love
Pisces, if we consider the trends that the love horoscope suggests for 2019, you should in particular bear in mind that you can't get away with a lie. In matters of love and relationships be very cautious, even more so if you do not intend to be entirely honest. Pisces, your attention and the ability of the long-term concentration will be maximized in 2019. Your thoughts may resemble a tiny lizard in the sizzling summer sun. It can slip out of grip or escape with clever tactical move from anyone who tries to catch or trick it (read more).
Career
Pisces, work will be of particular interest to you. However, the horoscope suggests that during the year 2019, a certain amount of suffering will be associated with your career as well. However, it is not entirely clear whether the cause may be a misunderstanding with the team, a disagreement with the superior, or a poor financial reward. Yet the horoscope predicts a vision of something pleasant, warm and soft to come at the end of the year (read more).